Lemon Balm Cutting Propagation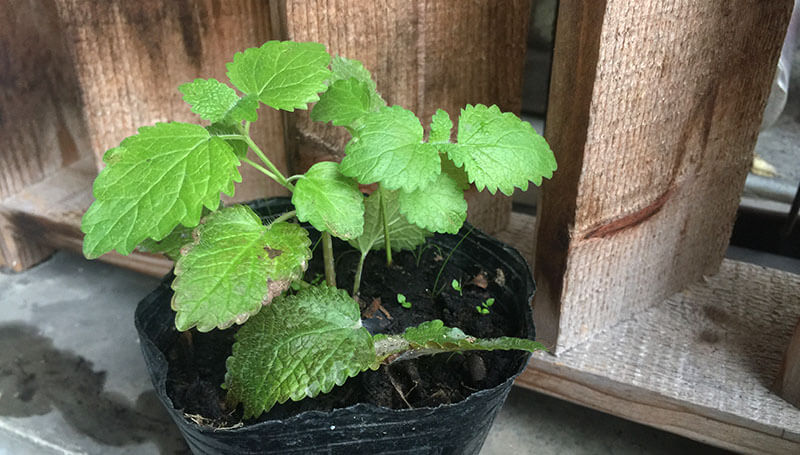 Lemon Balm (Melissa officinalis)

Lemon Balm is a lemon-scented, perennial herbaceous plant in the mint family. It can grows to 10-24 inches tall.

The name Melissa derives from the Greek word mélissa, meaning "bee". Bees love lemon balms. The ancient Greece planted lemon balms around temple in order to attract honey bees.

Lemon balm has a wide range of uses, such as lemon balm tea, lemon balm essential oil, wine, etc.

I love the lemon-scented smell of lemon balm , since lemon balm is easy to grow, I scattered a lot of lemon balm seeds over my field for weed control. Some of them grew up, but covered by weeds quickly.

About 2 months ago, a friend of mine gave me some cuttings of lemon balm. I planted them to soil, so far they grow very well. Let me share the tips of lemon balm cutting propagation. Although we could propagate lemon balm cuttings anytime, but I prefer to do it in spring season. Comfortable weather, enough rain. If you can take care of the plant every day, then the propagating time is not a big deal. But if you propagate cuttings in lemon balm blooming season, new buds will grow up very slow, furthermore they may blossom flowers, turn to old stems.
Step 1: Prepare the lemon balm cutting with at least 3 nodes.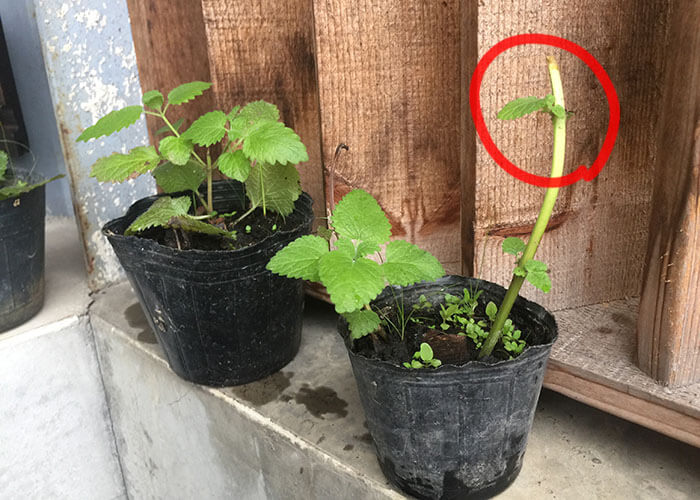 I'm preparing two cuttings today, one from thick and old lemon balm stem (the above picture), one from younger stem (the following picture).

Old lemon balm stem is very good to be cuttings, each node in the stem can be propagate.
Young lemon balm stem can be the cutting, but don't use as young and small as the terminal bud.
Step 2: Pinch off the terminal bud from the lemon balm cutting
If the cutting comes from an old stem, such as the first picture from step 1, then no need to do the step 2. Otherwise, please pinch off all terminal buds from your cutting, or the plant will keep transferring nutrients to terminal buds, let them grow tall. Without enough nutrients the root can't grow properly.
Step 3: Bury node to the soil.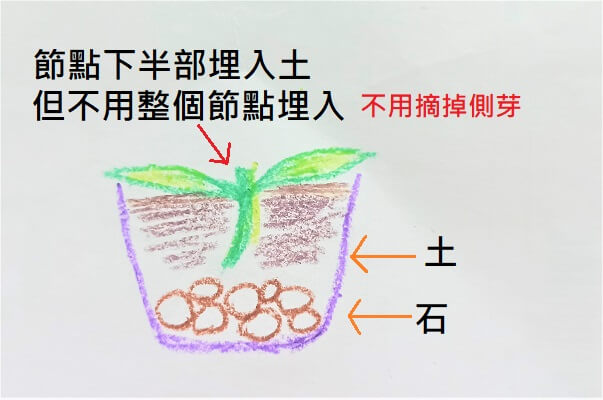 Bury at least one node of the thick cutting to soil directly, left the lateral buds above the soil.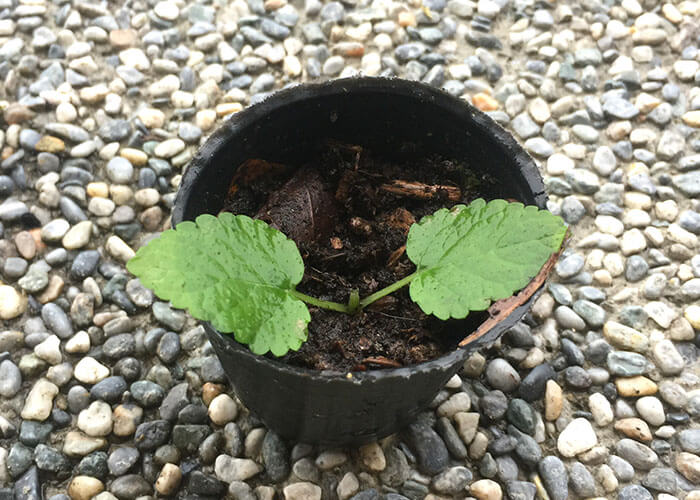 Pinching off the terminal bud then bury at least one node of the cutting to soil. The node with lateral buds, left that one above soil, let the bottom of that node touches the soil.

Done the lemon balm cutting propagation!

Pay attention to the weather for two weeks. Watering the plant when the surface of the soil is dried.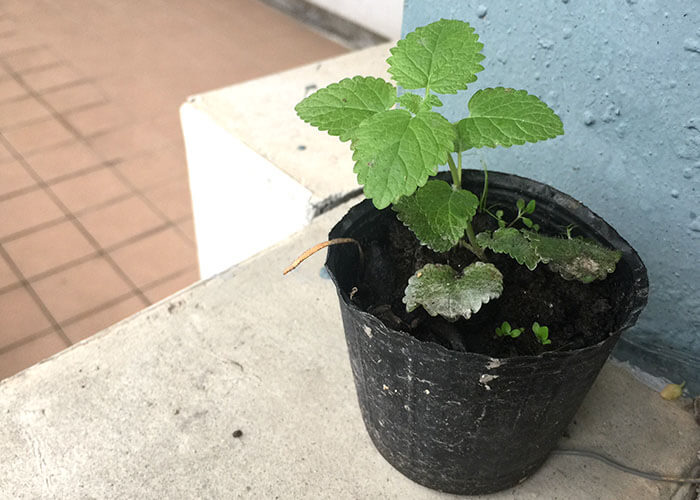 The lemon balm plantlet will grow up as big as the above picture. Keep pinching off terminal buds you will get lusher plant.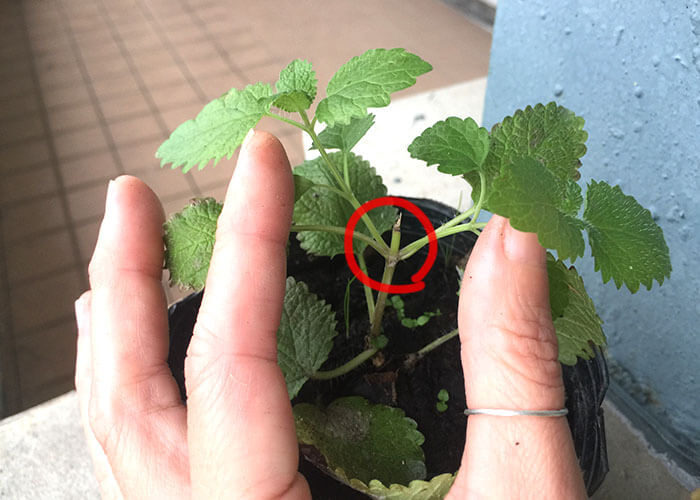 Pinching off the terminal buds can force lateral buds and roots to grow. After one month, lateral buds will grow as lush as the above picture. At this time, keep pinching off the top buds, you'll get a beautiful plant.

I made some lemon balm tea with those terminal buds that I pinched off.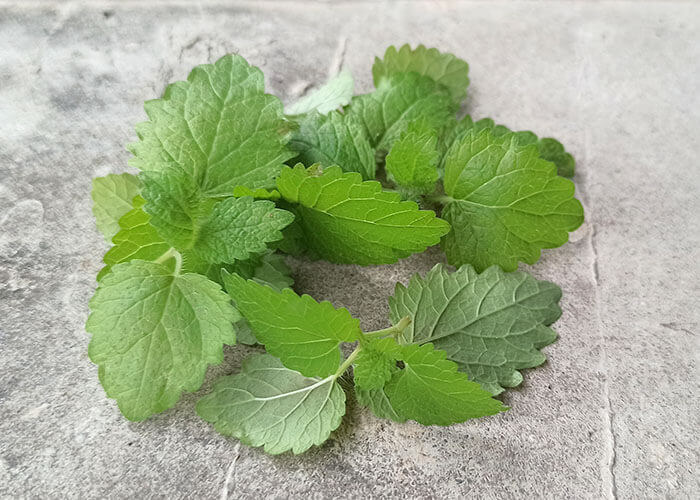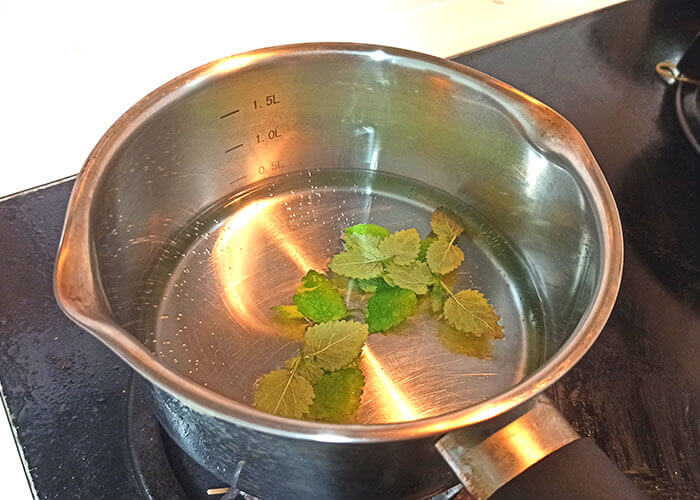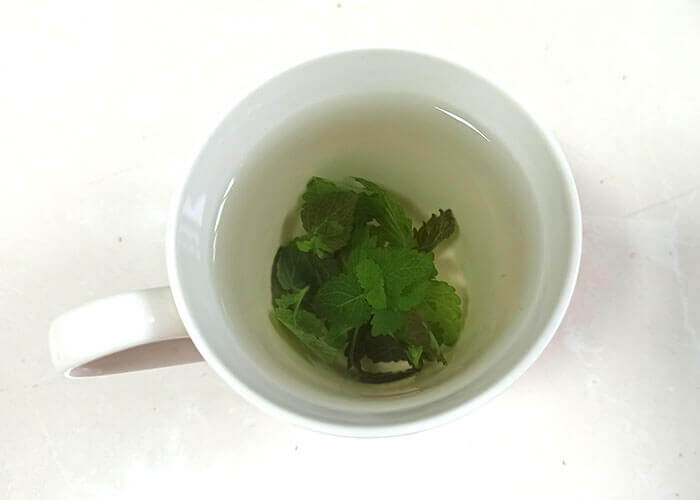 Not like mint tea has cold flavor, lemon balm tea is lemon-scented smell and a very few sweet taste.
How to take care of lemon balm plant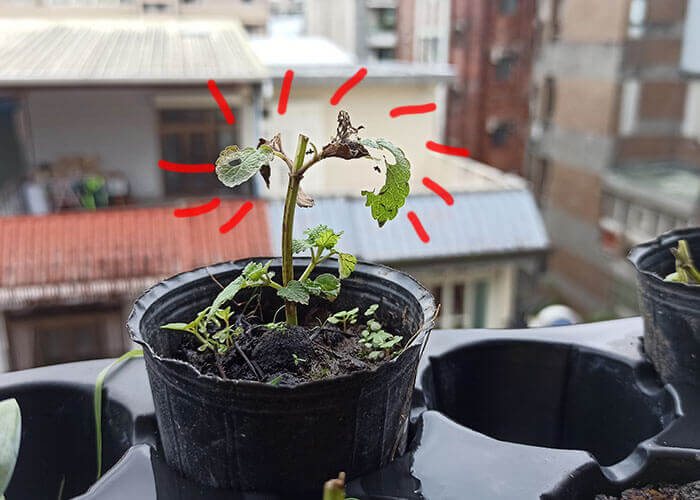 Sunlight: Full sun or partial shade. If always put lemon balm plant in partial shade place, seems easy to get insect pest. So better put the lemon balm plant in full sun place while spring, autumn and winter season. One of my lemon balm plants gets insect pest, some leaves have been eaten and the insect even made a web. (Reference the above picture.) I put it to a full sun place today, wish can control the insect pest problem.
Drainage: Prepare a well-drained soil in pot that can drainage excess water immediately while watering.
Watering: When the surface of soil is a little dried, water the plant until the soil full of water.

Hot day: Watering once a day. At least once per 3 days.
Wet day: Stop watering for 2 days.
Few soil of pot: Increase watering frequency.
A lot soil of pot: Reduce watering frequency.
If the plants are placed in the area that the rain can't pouring down, spray water on the leaves occasionally.

Fertilize: When finish milk or soy milk, use the milk bottle washing water to water the plants. Rice washing water is a good choice too. Watching the leaves, if they turn to a little bit yellow, maybe overwatered or drainage system is not good.
Prune: Pinch off the terminal buds occasionally will let the lateral buds grow lush. Without this step, the terminal bud will grow tall, but the plant will not become luxuriant.
I have tried to plant some herbs to control weeds for 3 years. So far, the most successful one is mint, then purslane (portulaca oleracea). The mesona, I'm looking forward it can control weeds, but the result is not good. The reason maybe is because I planted it in the barren land with a lot of stones. I have two assortments of artemisia, the weed control performance is the same like mesona.
There are already mint leaves, tagetes lemmonii leaves, cuban oregano leaves and stevia leaves in my herb tea bags. When those lemon balm cuttings grow up, I'll plant them to my field, not only for weed control, but also for adding to my herb tea bags. I'm looking forward a great lemon-scented flavor.